About Saville Assessment, Willis Towers Watson

About Saville Assessment, Willis Towers Watson
Mission
Saville Assessment, a Willis Towers Watson company is an international assessment business working with organizations to identify, select and develop talented individuals and teams.
Our vision is to transform assessment around the world with leading-edge psychometrics based on extensive research in to successful workplace performance.
Our integrated approach to talent helps organisations to achieve business objectives. We decrease risks and increase good opportunities connected with assessment and development.
---
What We Do
Assessment Products
Aptitude Assessments
Our portfolio includes tests for a wide range of skills, roles and levels, and is the only test range to feature 'Swift' combination tests and tests that can be completed on iPads.
Personality Questionnaires
Our suite of personality questionnaires support your talent activity across three areas; selection, development and volume assessment. All are built from the Wave Performance Culture Framework, a model of the key characteristics underpinning success at work.
---
Consultancy Solutions
We partner with organizations, delivering contemporary assessment and development solutions, tailored to your requirements. These include assessment and development centers, bespoke assessments, people analytics and benchmarking.
---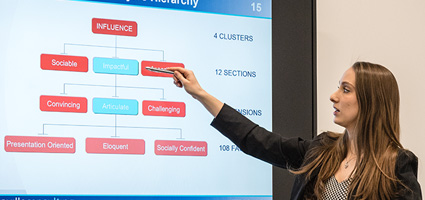 Accreditation Training
We deliver a high quality program of public, in-house and online courses equipping you to use our psychometric assessments and confer eligibility for BPS (British Psychological Society) Accreditation.
We are committed to providing an exceptional training experience from initial enquiry, through course participation and on to post-course support.
---
History Timeline
2004 – Founded by Professor Peter Saville
Acknowledged as the 'Assessment Guru', Peter recruited the best psychometricians in the world to deliver his vision of transforming assessment around the world.
2005 – Wave Launched
A new era of personality questionnaire arrives offering the most validity on the market and the deepest insight into an individual's motives, talents and workplace potential.
2007 – Swift Combination Tests Launched
Faster, smarter ability testing boasting a fresh, modern look and feel, and the only portfolio to include combination tests measuring several sub-areas in one assessment.
2013 – Situational Judgment Tests Launches
Bespoke multi-media SJTs combining psychometric expertise with latest technology break boundaries with a fast, engaging, powerfully-branded volume assessment tool.
2015 – New Tests – New Technology
The first psychometric test publisher to have iPad-administered assessments and lead the way with utilizing technology.
2015 – A Towers Watson Company
Acquired by Towers Watson, creating a powerful synergy and offering organizations an end-to-end service of talent management, benefits, technology, reward, risk and capital management.
2016 – Willis Towers Watson
Now part of a leading global advisory, broking and solutions company helping clients around the world turn risk into a path for growth.
2017 – New Leadership Reports Launched & Cloud Integration
As well as launching our new market-leading Leadership Impact and Leadership Risk Reports, we moved our Oasys platform to the Cloud, leading to increased performance, enhanced security and improved environmental impact.
180 Assessment Solutions, over 50 International Partners in over 80 Countries.
---
Willis Towers Watson
Willis Towers Watson (NASDAQ: WLTW) is a leading global advisory, broking and solutions company that helps clients around the world turn risk into a path for growth. With roots dating to 1828, Willis Towers Watson has 39,000 employees in more than 120 countries.
We design and deliver solutions that manage risk, optimize benefits, cultivate talent, and expand the power of capital to protect and strengthen institutions and individuals. Our unique perspective allows us to see the critical intersections between talent, assets and ideas — the dynamic formula that drives business performance.
Together, we unlock potential.
To find out more about Willis Towers Watson and our solutions, please visit www.willistowerswatson.com