Swift Analysis Verbal & Numerical

Swift Analysis Verbal & Numerical
Target Group: Directors, Managers, Professionals, Graduates & Management Trainees
A combination test based on verbal (12 minutes) and numerical (12 minutes) sub-tests
Swift Analysis Verbal & Numerical is designed for use with managers, directors, professionals and graduates. The assessment measures critical reasoning through short verbal (12 min) and numerical (12 min) sub-tests and is suitable for all high-level roles.
Aptitude Area Sub-scores:
---

Swift Analysis Verbal & Numerical
Invited (Unsupervised) Online Version (IA)
This online assessment is available to Oasys and Bureau users and presents one of many parallel versions assembled from content that is completely separate from the supervised versions. The self-administering, interactive format in conjunction with economical time limit (24 minutes total testing time) makes this tool ideal for unsupervised assessments. It can be taken from any place with a computer and good Internet connectivity. The assessment tool can be deployed as a stand-alone tool in talent audit and self-development situations, or as a screening tool in a multistage recruitment process. For high-stakes appointment decisions Saville Assessment strongly recommend retesting under supervised conditions.
---
Assessment Report
The assessment reports have been designed for use in either selection or development. The Swift Analysis Verbal & Numerical Report contains:
An introduction
Analysis Aptitude Profile with Total Score and Aptitude Area (Verbal & Numerical) Sub-scores.
Tips on improving abilities
Reports also contain test-taking style information.
A combination test based on verbal (12 minutes) and numerical (12 minutes) sub-tests
Sample Report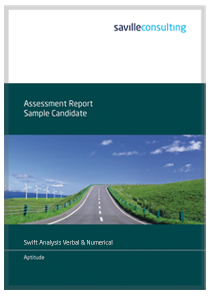 Download a sample report